AAMCO Transmissions and its parent companies is being sued by its franchise owners in a class action lawsuit filed by St. Louis-based attorney Jonathan Fortman.
In a blog posting published yesterday titled  AAMCO's VOODOO ECONOMICS, Fortman claims that AAMCO's just-released 2012 audited financial statements substantiate his claim that AAMCO misled prospective franchisees by providing them with "statements of income and expenses which are inaccurate and false and misrepresent the true financial condition of the franchisor."
(UnhappyFranchisee.Com) Attorney Jonathan Fortman claims that " The [AAMCO] 2012 audited financials just released prove that our claims contained in Paragraph 171 of the lawsuit are completely accurate."
Fortman filed suit against Aamco Transmission and its parent companies on behalf of several current and former franchisees on November 22, 2013.  At the time the suit was filed, Aamco was 11 months late in submitting its 2013 Franchise Disclosure Document (FDD).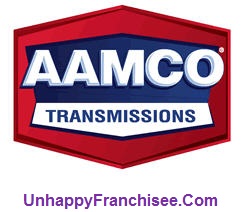 Paragraph 171 of the lawsuit states:
  AAMCO has violated the FTC rule with regard to Item 21 of the FDD in that it has provided consolidated financial statements which contain statements of income and expenses which are inaccurate   and false and misrepresent the true financial condition of the franchisor.   Upon information and belief, AAMCO is currently conducting an audit to determine the extent of the misstatements   contained in the financial statements previously provided in its FDD's and, as of this date, have not completed a 2013 FDD thereby rendering it unable to sell franchises.
In his law firm's blog, Fortman states that the departure of top AAMCO executives and AAMCO's recently released financial statements – with the restated financials revealing even higher losses than previously reported – prove that AAMCO provided prospective franchisees with inaccurate, false and deceptive financials to hide the extent of its financial woes.
According to Fortman's blog posting:
The balance sheet from the 2011 [AAMCO] financials indicates assets of $161 million in 2010 and $159 million in 2011.  However, the 2012 financials indicate that on March 25, 2013, the board of directors decided to revise their accounting practices.  As a result, the 2012 financial statements indicate assets of $89 million in 2010, $84 million in 2011, and $66 million in 2012.

The 2011 Balance Sheet indicates that in 2010 there was $64 million due Aamco from its parent and $67 million due from the parent in 2011.  In the 2012 Balance Sheet, there is no amount indicated as being due from the parent company in 2010 or 2011.  In fact, the 2012 Balance Sheet indicates that Aamco owes its parent $35 million in 2010, $28 million in 2011 and $21 million in 2012.

The 2011 Consolidated Statements of Operations indicate a net loss of $ 177,720 in 2010 and a net loss of $703,376 in 2011.  However, in the 2012 Consolidated Statements of Operations, the net loss for 2010 jumps to $394,785 and for 2011 the loss is now $799,195.

The loss for 2012 is a staggering $12,856,210.

The other item I found interesting in the 2012 audited financial statements concerns the long-term liabilities.  According to the Note 5 to the 2012 audited financial statements, Aamco was jointly and severally liable with Cottman and American Driveline for debts totally $100,204,978 in 2010, $96,793,173 in 2011 and $109,570,974 in 2012.  The note indicates that on some undisclosed date, Aamco was in default but that on November 6, 2013, an amendment was executed which basically excused the default.  The terms of that Amendment are not disclosed.

What I find extremely interesting is that the CEO and CFO were shown the door in June of 2013, just a few months after the board of directors determined that the accounting practices needed to be revised.  It certainly leads to the inference that there was some cooking of the books.  I can guarantee that the first documents we request in our lawsuit will be the meeting minutes of the March 25th meeting of the board of directors.  It should certainly be enlightening…

…the one thing that cannot be justified or excused is that the financial picture given to the potential franchisees prior to November 22, 2013, was far from accurate.  The financial viability of the franchisor is certainly a very material consideration when a potential franchisee looks to invest their life savings into a system.  The reason that the FTC requires audited financials is that it gives the potential franchisee a glimpse at the financial condition of the franchisor.  If it wasn't a material factor, the FTC wouldn't require that the financials be disclosed.   Aamco and its parent, American Capital, cannot reasonably expect that such a massive restatement of its financials will retroactively make all the problems faced by their franchisees go away.
Fortman concluded that its possible that the AAMCO parent has finally realized the validity of its franchisees' long-standing complaints that they were deceived in the franchise sales process.
States Fortman:  "Who should bear the burden of the hundreds of franchisees who lost everything because this system was not portrayed in its true light?  The answer is obvious."
Also Read:
AAMCO TRANSMISSION Franchise Complaints
AAMCO Franchise Lawsuit Alleges Pervasive and Blatant Fraud
AAMCO: Message to AAMCO Franchisees from Fortman Law
NATIONAL AAMCO DEALERS ASSOCIATION (NADA) Criticized for Doing Nada
COTTMAN TRANSMISSION Franchise Complaints
AAMCO Franchise Called a "Financial Nightmare"
ARE YOU FAMILIAR WITH AAMCO AND/OR THE AAMCO FRANCHISE OPPORTUNITY?  SHARE A COMMENT BELOW.
Tags: AAMCO lawsuit, AAMCO class action lawsuit, AAMCO franchise lawsuit, aamco complaints, aamco lawsuit, aamco ripoff, aamco scam, AAMCO Transmissions Franchise, AAMCO Transmissions, AAMCO Transmissions Franchise complaints, AAMCO Transmissions Franchise info, AAMCO Transmissions Franchise information, transmission Franchises, owning a AAMCO Transmissions Franchise, start an AAMCO Transmissions Franchise, Jonathan Fortman
The post AAMCO Transmissions: Attorney Claims AAMCO Misled Franchise Investors appeared first on Unhappy Franchisee. Reposting this content without prior expressed written permission by Relentless, Inc. is strictly prohibited.