Cherry Blow Dry Bar franchise expansion milestones include opening its first U.S. franchised salon in Tallahassee, having salons "in the pipeline" for Orlando and San Francisco, and appointing area developers Jerry Cohn and David Tannen to sell franchises in the Southeast.
But behind the bright, shiny façade of Nathan Cuneen's "hot new" Cherry Blow Dry Bar franchise concept is a disturbing fact:
Nathan Cuneen's Blow Dry Bar chain in Australia – the one that Cherry Blow Dry Bar franchise is based on – appears to be in a state of collapse.
More than half of the chain's locations have either closed or rebranded in the past year.
Recently, 10 of the 21 Blow Dry Bar locations in Australia either closed or rebranded as independents.
As UnhappyFranchisee.com previously reported (see CHERRY BLOW DRY BAR Franchise Warning), Blow Dry Bar franchise owners were struggling, angry, failing and complaining that Cuneen's business model and business practices did not make for a successful franchise venture.
Yet despite having a similar (if not identical) concept as its affiliate chain in Australia, Cherry Blow Dry Bar franchises are being promoted as if the idea is fresh, new and full of promise.
And unsuspecting franchise buyers will not find the failures and closures of its affiliate chain disclosed anywhere in the Cherry Blow Dry Bar Franchise Disclosure Document (FDD).

.
Cherry Blow Dry Bar's Affiliate Drops from 23 to 11 locations
Current company press releases state "Originally launched as Blow Dry Bar in Australia in 2008 by visionary and entrepreneur Nathan Cuneen, the brand grew to 23 locations."
The press release fails to mention that there are currently only 11 locations remaining on the Blow Dry Bar following the closures or rebranding of the following locations:
Wollongong
Sans Souci
Castle Hill
Balmain
World Square
North Sydney
Malvern
Richmond
Melbourne Central
Broadbeach
Market Street Sydney
Cherry Blow Dry Bar Big on Hype, Silent on Reality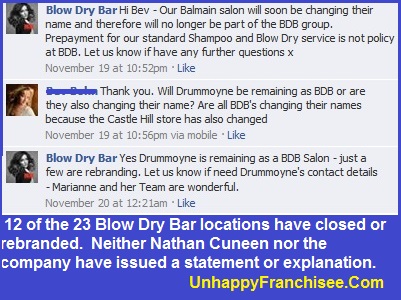 Nathan Cuneen is not shy when it comes to promoting positive hype or pie-in-the-sky future store opening schedules regarding the Cherry Blow Dry Bar franchise.
But when we contact him about important matters having to do with things that have actually happened or are happening, we get no response.
What happened to the Manhattan store he was to open in September 2013?
In a June press release (CHERRY BLOW DRY BAR Secures Prime Manhattan Location) he claimed to have "secured a prime 6th Avenue location in Chelsea, 650 Sixth Avenue…" and would be following it with more Manhattan locations opening in 2013.
In a recent press release, there was no mention of any New York expansion at all.
In the June press release, Cuneen stated that he plans "to open 10 locations by the end of 2013 and with a mixture of company owned and franchised stores…"
It looks like there will be a single store open in 2013.
He continues to brag in press releases that the "visionary and entrepreneur Nathan Cuneen" grew his brand to 23 locations, but is silent when asked why fewer than half those locations are still listed as open on his website.
UnhappyFranchisee.Com will continue to try to get straight answers from Nathan Cuneen, but it's doubtful we'll be successful.
Just like some franchise chains we know.
Also read:
CHERRY BLOW DRY BAR Franchise Warning
NATHAN CUNEEN: 12 Questions About The Cherry Blow Dry Bar Franchise
BLOW DRY BAR Salon Openings & Closings (Australia) [UPDATED]
BLOW DRY BAR Franchise Complaints (Australia)
ARE YOU FAMILIAR WITH THE BLOW DRY BAR FRANCHISE OPPORTUNITY, WITH CHERRY BLOW DRY BAR OR NATHAN CUNEEN? PLEASE SHARE A COMMENT BELOW. Contact UnhappyFranchisee.comTAGS: Cherry Blow Dry Bar, Cherry Blow Dry Bar franchise, Blow Dry Bar, Blow dry bar franchise, Nathan Cuneen, salon franchise, hair salon franchise, Nathan Cuneen scam, Nathan Cuneen fraud, Blow dry bar scam, Blow dry bar fraud, blow dry bar complaints
The post CHERRY BLOW DRY BAR Franchise: Salons Closing, Debranding in Australia appeared first on Unhappy Franchisee. Reposting this content without prior expressed written permission by Relentless, Inc. is strictly prohibited.