The CherryBerry frozen yogurt franchise location in Sand Springs, Oklahoma has closed.
CherryBerry Sand Springs is just one of a number of CherryBerry franchise locations that have succumbed to what seems like a froyo franchise meltdown.
Other CherryBerry locations to close in recent months include:
Conroe, Clear Lake (Webster), Pasadena, and Tomball CherryBerrys in Texas,
Blue Springs and Springfield CherryBerrys in Missouri,
Derby, Kansas,
Claremore, Oklahoma, and
Fayetteville, Arkansas.
According to the Facebook post by CherryBerry Sand Springs "Unfortunately, this business isn't doing great anywhere right now."
Read about recent CherryBerry franchise closures here:
CHERRYBERRY Texas Franchise Failures
CHERRYBERRY Franchise Closure: Claremore, Oklahoma
CHERRYBERRY Franchise Closes, Cites Poor Sales
CHERRYBERRY Franchise Closure: Fayetteville, AR
CherryBerry Sand Springs, OK  Jan. 2011 – Dec. 2012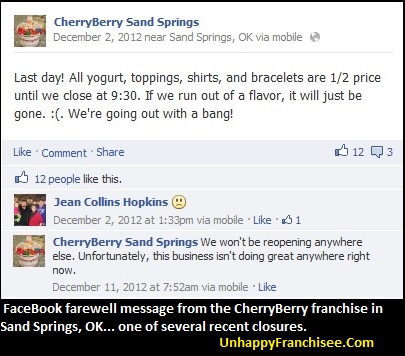 The CherryBerry in Sand Springs, OK stayed open for nearly 24 months, longer than other recently closed CherryBerry locations that averaged about 16 months.
The Sand Springs CherryBerry was owned and operated by franchisees Darin & Pam Shipley.
UnhappyFranchisee.Com sends the Shipley family and staff our condolences on the closing of their franchise, and wishes them the best of luck with all future endeavors.
ARE YOU A CHERRYBERRY FRANCHISE OWNER OR FRANCHISEE?  ARE YOU FAMILIAR WITH THE CHERRYBERRY FRANCHISE OPPORTUNITY OR BEAUTIFUL BRANDS?  SHARE A COMMENT BELOW.
TAGS: CherryBerry, CherryBerry Frozen Yogurt, CherryBerry franchise, CherryBerry Frozen Yogurt Franchise, Froyo, Froyo franchise, Frozen Yogurt franchise, Beautiful Brands International, Dallas Jones, Robyn Jones, David Rutkauskas, franchise failures, franchise closures, franchise graveyard, Unhappy Franchisee, Sand Springs Oklahoma, CherryBerry Sand Springs, Darin Shipley, Pam Shipley
The post CHERRYBERRY Franchise Closure: Sand Springs, Oklahoma appeared first on Unhappy Franchisee.