CherryBerry frozen yogurt franchise store closures included at least 11 locations, about 9% of all CherryBerry stores by our estimation.
(UnhappyFranchisee.Com)  And at least 8 CherryBerry franchise locations (including some of the closed stores) are listed for sale at significantly less than the estimated initial investments of $224,500 to $354,000 per store.
The store closures included CherryBerry locations in Arkansas, Kansas, Missouri, Oklahoma and Texas.
The average lifespan of the stores that closed is estimated at 16 months.
The CherryBerry website lists 108 locations open, with 31 listed as coming soon.
Beautiful Brands has stated that more than 250 additional CherryBerry franchises have been sold1.
(Beautiful Brands has also stated that more than 1000 of its Freshberry frozen yogurt franchises are in development.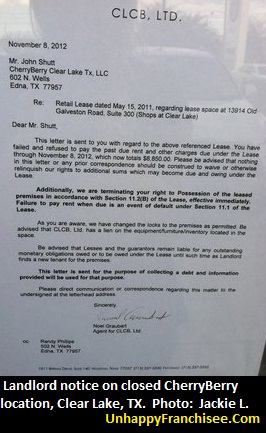 As of 1/10/13, the Freshberry website lists only 42 locations as open)
These are unofficial numbers compiled from publicly available sources.  We have asked the company for verification, and await their response.
CherryBerry is being portrayed as a success story
CherryBerry frozen yogurt was founded by Dallas & Robyn Jones in 2010.
The Jones' first offered licenses to own and operate CherryBerry frozen yogurt stores from August, 2010 to June, 2011.
They sold 73 licenses to own Cherryberry stores.  In May, 2011, only 21 of those Cherryberry licensed stores were open and operational2.
In July, 2011, the Jones formed CherryBerry Enterprises LLC and signed on as a "partner brand" with Tulsa-based Beautiful Brands International (BBI).
Beautiful Brands International aggressively markets and sells the CherryBerry frozen yogurt franchise opportunity as well as its own FreshBerry frozen yogurt franchise opportunity.
CHERRYBERRY Store Closures 2012*
CherryBerry franchises listed at firesale prices
According to the 2012 CherryBerry Franchise Disclosure Document (FDD), the estimated initial investment for opening a CherryBerry franchise is $224,500 to $354,0002.
The Muskogee, OK CherryBerry franchise is listed with a broker for just $165,000.
7 Texas CherryBerry franchise locations are being offered at a discount, bundled price of $985,000, which reflects an average price of just $140,000 per location3.
| | | | |
| --- | --- | --- | --- |
| CherryBerry Location for sale* | Opened | Status | Asking Price |
| OK  Muskogee | Nov. 2011 | Open | $165,000 |
| TX  Clear Lake | Sep. 2011 | Closed | $60,000 |
| TX  Conroe | Nov. 2011 | Closed | $75,000 |
| TX  Pasadena | Mar. 2011 | Closed | $125,000 |
| TX  Pearland | Nov. 2011 | Closed | $75,000 |
| TX  Tomball | Jul. 2011 | Closed | $125,000 |
| TX  Lake Jackson | Apr. 2011 | Open | $200,000 |
| TX  Victoria | | Open | $325,000 |
| Average: | | | $143,750 |
UnhappyFranchisee.Com extends its condolences and best wishes to the owners and staff of the closed CherryBerry franchises/licensed stores, and wishes current owners the best of luck and future success.
*  Estimated, as of 1/10/13.  We have asked the company for verification of accuracy and completeness, but have not yet heard back from them.
1  QSR magazine 4/25/12, 8/30/12, 10/30/12
2  2012 CherryBerry Franchise Disclosure Document
3 Commercial Gateway broker listing
ARE YOU A CHERRYBERRY FRANCHISE OWNER OR FRANCHISEE? 
ARE YOU FAMILIAR WITH THE CHERRYBERRY FRANCHISE OPPORTUNITY OR BEAUTIFUL BRANDS? 
SHARE A COMMENT BELOW.
TAGS: CherryBerry, CherryBerry Frozen Yogurt, CherryBerry license, CherryBerry franchise, CherryBerry Frozen Yogurt Franchise, open a CherryBerry, Froyo, Froyo franchise, Frozen Yogurt franchise, Beautiful Brands International, Dallas Jones, Robyn Jones, David Rutkauskas, franchise failures, franchise closures, franchise graveyard, Unhappy Franchisee, CherryBerry Texas, CherryBerry Oklahoma
The post CHERRYBERRY Franchise Closures 2012 appeared first on Unhappy Franchisee.