It seems Florida's Okaloosa Sheriff's Department has identified Robert Dale Nabors, CEO of Cuppy's Coffee, Medina Management & related entities, as a fugitive from justice and awaits his return to face felony charges for passing worthless checks.
Mr. Nabors was arrested March 31, 2009, then freed on bail in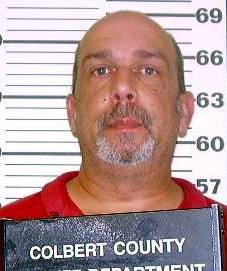 Colbert County, Alabama.
Read the story and commentary on these posts on UnhappyFranchisee.Com:
CUPPY'S: CEO Dale Nabors Faces Felony Charges
CUPPY'S: Robert Dale Nabors, Fugitive From Justice
Related stories:
Dale Nabors was a consultant to the infamous Cuppy's Coffee and parent Medina Management.  You can read the story through blog posts in reverse order.
CUPPY'S COFFEE: Employees Bid Fond Farewell to Dale Nabors
CUPPY'S COFFEE: Dale Nabors Tells Purvin, AAFD to Buzz Off
CUPPY'S COFFEE: AAFD Tells Dale Nabors to Pay Up
CUPPY'S COFFEE: SWEET HOME SCAM-A-BAMA
CUPPY'S COFFEE FRANCHISEES CALL DALE NABORS
CUPPY'S COFFEE: Ft. Walton Employees Sent Packing
FranSynergy Acquires Cuppy's Coffee Franchise, Medina Enterprises, Elite Manufacturing, & Specialty Coffee Coop
WHAT DO YOU THINK?  SHARE A COMMENT BELOW.
Dale Nabors March 31, 2009 mugshot courtesy Alabama's Colbert County Sheriff Department and Blue MauMau.
Post from: Franchise Pick