Rande LaDue, distributor of PACE hydraulic exercise equipment, is seeing a fitness industry trend:  independent express fitness clubs opening in markets and locations that could not sustain a Curves franchise.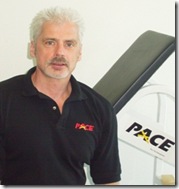 PACE sells hydraulic exercise equipment like the machines used in Curves franchise clubs*.  In fact, the first Curves club in Harlingen, TX originally used PACE equipment, according to LaDue.  Ironically, PACE is finding a new niche where Curves clubs are struggling.
In an interview posted on FranBest.com, (see PACE Express Circuit Training Equipment)  LaDue states:
One of our biggest areas of growth right now is selling into markets where a Curves club has just gone out of business. There may have been 50-60 loyal members who loved working out but have been left high and dry; maybe this was not enough members to cover the high franchise fees, but usually more than enough to cover basic expenses.
LaDue gives the example of Kimberly Ellingsen, a former Curves member who opened her independent New Image Fitness when the local Curves club closed.  According to LaDue, Ellingsen "had over 50 former Curves members signed up before she opened her PACE club, then recently had her grand opening and signed up dozens of new people."
[Pictured, above right: Rande LaDue, Owner, Hydraulic Fitness Products.  For information on PACE exercise equipment, email PaceEquipment@gmail.com]
Independent clubs pay no franchise fees or royalties.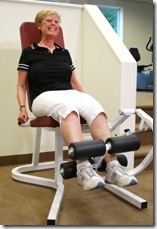 How could an independent club – with no established branding or name recognition – survive where a powerhouse like Curves could not?
The most obvious reason is cost.  Independent clubs cost less to start, and less to operate.  In some low-volume locations, that cost difference could be the difference between success and failure.
According to the Curves website, the cost of a Curves franchise is $24,900 (new equipment) or $19,900 (refurbished equipment) with delivery of the Curves equipment ranging from $3,000- $5,000.  A PACE new equipment package is well under $15,000, with training included (normally a $1000 option).
According to Curves, "Curves charges a monthly franchise royalty and a monthly advertising royalty based on a percentage of gross revenues….The franchise royalty is 5% of gross revenues, with $795 being the maximum monthly payment by a franchisee and $195 being the minimum. The advertising royalty is 3% of gross revenues, with $395 being the maximum monthly payment by a franchisee and $95 being the minimum."
Independent clubs pay no franchise or advertising royalties, as opposed to yearly costs ranging from $3480 to $14,280 Curves owners must pay.  Additionally, Curves owners have other costs, including mandatory purchases and program participation costs.
Independent clubs have freedom to experiment.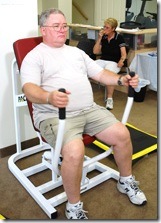 Franchises like Curves are based on conformity and compliance; they build their brand by enforcing consistent standards throughout their international network of clubs.  Curves franchise owners do not have the freedom to, say, add a line of retail products on their own, or to promote their club as co-ed.  In smaller, extra-competitive or nuanced markets, finding new and creative ways to add revenue or grow membership may require out-of-the-box initiatives that would not be approved by a national franchise.
In recent discussions on UnhappyFranchisee.com, some Curves owners have complained that they have trouble retaining members who plateau and/or get bored with the non-adjustable Curves hydraulic equipment, yet they are prohibited from going to weight-based machines or even the adjustable hydraulic machines offered by PACE.
Curves franchises face stiffer penalties for failure.
The penalties for failure also seem to be greater for Curves owners than independent operators.  Many comments by Curves owners here (see the comments on Robert Lay's Story) cite the fact that they are pressured to pay closing or "failure" fees if they cannot remain open for the full term of their agreement, and that they are pursued for "future royalties" despite having done their best to keep their Curves clubs open.
Independents stake their claims.
There's no doubt that Curves pioneered the concept of circuit-based express fitness clubs.  However, many, many franchise clubs are fighting for their survival in oversaturated or underpopulated markets.  Where these clubs cannot survive, independent clubs – unburdened by franchise fees, royalties and corporate mandates – may be able to thrive.  If they do, the independent owners and suppliers like PACE will have Curves to thank.
WHAT DO YOU THINK?  SHARE A COMMENT BELOW.
* According to LaDue, PACE equipment differs from the Curves machines in that PACE equipment can be adjusted to increase or decrease resistance.