Newsweek states:  "Suddenly, it seems as though all the world's a-twitter."  The franchise world certainly is.  The online conversation is getting increasingly lively and useful as franchisors, franchisees, franchisee prosp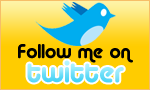 ects, franchise vendors, pundits, pr firms, and franchise media interact 140 characters at a time.
Now FranchisePick.com and FranBest.com are compiling the Who's Who in Franchising on Twitter in our directory of FranTwits.  See our list of franchise resources on Twitter below;  to be added to the list, leave your Twitter ID and a comment
To see the full list, visit FranTwits on FranBest: Twitter Franchise Directory .
FRANCHISE RESOURCES ON TWITTER
@FranchiseKing

@FranchisePick

@iFranchiseGroup

@joncarlston

@McWebmaster

@balihoo

@john_lilley

@paul segreto

@katrynharris

@twinterstein

@FranchisingLaw

@RushNigut

@FranchiseLawyer

@franlawyer

@hklawtwits

@drjohnhayes

@Rieva

@egennicks

@doughexpress

@mcdarling

@GRIPCOMMPR

@KwesiRobertson

@mstrategiesinc

@franchisingplus

@libertyharper

@FranchiseMaven

@terrycoker

@valpakcoupons

@danatligero

@TopNewFranchise

@FranchiseHdbk

@gaeblerdotcom

@franchisefinder

@fran_foundry

@JeffreySummers

@franchise

@RecruitMilitary

@danec
To access individual pages, use the format http://www.twitter.com/TWITTERID (no @ sign). For example, to see the tweets of @FranchisePick, visit http://www.twitter.com/FranchisePick
DO YOU TWITTER?  WHAT DO YOU THINK OF IT?  SHARE A COMMENT AND YOUR ID BELOW.
Twitter Graphic:  VincentAbry