The North Andover, MA Fresh City franchise location has closed after four years.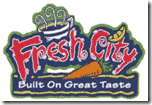 Fresh City co-owner Larry Reinstein blamed the difficult economy on the closure, but said the rest of the area Fresh City locations were doing fine.
Comments left on the local news story indicated that a reputation for health code violations and lack of cleanliness my have been a factor in the restaurant's demise. 
According to the story in the Eagle Tribune:
         The Fresh City chain closed its Turnpike Street restaurant yesterday after four years of serving burritos, stir frys, salads and sandwiches.
Fresh City co-owner Larry Reinstein said the North Andover franchise, located in the Eaglewood Shops mall, was a casualty of the difficult economy. He would not say when the decision was made to close the restaurant.

"We thank our many guests for their patronage," Reinstein said yesterday. "We appreciate it, but it became an unprofitable location."

* * * * *

Fresh City opened in the Eaglewood Shops in November 2005.

It was business as usual there on Thursday. But by yesterday afternoon, workers were removing tables, chairs and counters and the sign on the building had been taken down.

Reinstein, the president of Needham-based Fresh Concepts LLC, said there are 17 other Fresh City restaurants in Massachusetts, New Hampshire, Connecticut and Virginia.

"All other locations are doing just fine," he said.

Reinstein said he did not know how many Fresh City employees worked out of North Andover or when they were told about the plan to close the location.

"We're trying to take care of as many employees as we can at other locations," said Reinstein. "Within reason, we're going to try to transfer as many as we can."
Reader comments posted on the article were critical of the cleanliness of the North Andover Fresh City franchise:
It wasn't the food; it was the way they disinfected the trays…still pretty gross.
this just in fresh city not very fresh. Ecoli salds and salmanila burrittos were the down fall of this joint
They were shut down multiple times by the board of health why exactly were they allowed to reopen at all?
I think the reason Fresh City failed is because, a couple of years ago the board of health closed them down for a few days because the restaurant was not clean – I know that's why I never went back. I am usually a 3 strikes kinda gal…but not when it comes to cleanliness and where I eat.
ARE YOU FAMILIAR WITH FRESH CITY?  WHAT DO YOU THINK?  SHARE A COMMENT BELOW.