Georgia franchise litigation attorney Cary Ichter, Partner at Ichter Thomas LLC, speaks with UnhappyFranchisee.Com  on hiring tenacious litigators, suing irreputable franchisors, and keeping franchisees from shooting themselves in the foot… a second time.
UF:  Cary, how do you describe the Ichter Thomas law firm?  What makes your firm unique?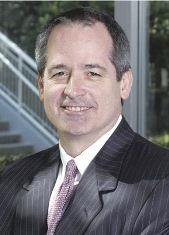 Cary Ichter: Ichter Thomas is an aggressive business litigation firm that focuses on franchise and distribution disputes. We are, I think, different from many firms in that we relish going to court.
The pool from which we hire associates is rather unique in that we hire nothing but former championship-level college debaters. We hire people who have an aptitude for going into court the first day they come out of law school and are capable of thinking on their feet, making arguments on the fly and being able to out-maneuver the opposition on Day One.
The associates that we hire at Ichter Thomas graduated at the top of their respective law schools and are well-educated legal technicians and extraordinary oral advocates.
UF:  You're looking to you hire people who are spoiling for a fight, not people who are looking to settle right out of the gate?
Cary Ichter: Yes, exactly. While you may not think of a college debater as someone who wants to wind up in the middle of a rumble, when it comes to an argument or engaging someone intellectually that's exactly what they want to do.
UF:  You have had some significant wins for franchisees against abusive franchisors in recent years. Did you get your start in franchising by representing franchisees?
Cary Ichter: Actually, I started out predominantly on the franchisor side. For the first 20 years, I represented large franchisors, such as Days Inn, Dunkin' Donuts, Baskin-Robbins, Togo's, and The Athlete's Foot. I also represented a number of smaller, regional franchisors in the Southeast.
UF:  Does your 20+ years representing franchisors give you an edge in now representing franchisees who have been wronged or mistreated?
Cary Ichter: Absolutely. Franchisees and franchisors enter a dispute with entirely different perspectives, and it's critical to understand both sides.
When franchisees enter a dispute, their entire future is often dependent on the outcome of this single disagreement. It's their sole focus. Conversely, a single litigated case can have a wide range of ramifications for the franchisor, but it is rarely an existential threat to the system. The single case can, however, have system-wide implications. The franchisor has varied concerns that a single dispute with a franchisee or franchisee group can implicate. To be effective in representing franchisees, it's critical for an attorney to understand the franchisor's sometimes complex motivations.
UF:  What are some of these factors that motivate franchisors?
Cary Ichter: One concern is how the litigation will affect their ability to recruit and sign up new franchisees. Franchisors are required to disclose pending and recent franchisee lawsuits in Item 3 of their Franchise Disclosure Document, or FDD. So the nature of the complaint as well as the outcome must be disclosed to every prospective franchisee – a concern that franchisees don't have.
Franchisors also are concerned about the ramifications the litigation holds for its relationship with its other franchisees, and what precedents it might set. Remember, many of the other franchisees are likely operating under the same agreement and may be in a similar situation as the plaintiff or defendant franchisee. These related issues may be of more significance and be of greater concern to the franchisor than the specific dispute at hand.
Having spent 20 years focusing on the franchisor's best interest gives me a critical understanding of the franchisor perspective – and how to craft an argument to get the most advantageous resolutions for my clients.
UF:  So while it's well-known that franchise agreements are one-sided in the franchisor's favor, the franchisor may, in fact, have much more to lose.
Cary Ichter: In some cases, absolutely. The franchisor's first question when faced with franchisee litigation should be: What happens if we lose? A single piece of franchisee litigation can have far-reaching effects and even bring down an entire franchise system. We've seen that happen in a number of systems. Smart franchisors understand the need to mitigate their risks.
The litigation attorneys at Ichter Thomas understand the risk tolerance of franchisors, and what their interests and priorities are. We know, to a certain extent, where the bodies are buried or at least where they're likely to be buried. That can be a tremendous advantage in representing the interests of our franchisee clients.
UF:  What advice do you have for franchisees who believe they were deceived into buying a bad franchise, or feel that the franchisor has not lived up to its obligations?
Cary Ichter: Most franchisees in bad situations regret having simply relied on their own judgments when they made their franchise investment. They look back and realize that they should have enlisted the help of a specialist who could have properly vetted the franchise opportunity and agreement and who may have seen and understood the warning signs that they missed or discounted.
My advice: Don't make the same mistake twice. The franchise relationship is legally complex and nuanced, and you can compound your misfortune by making seemingly logical, but incorrect, decisions. If you don't want to be in the relationship, sit down with somebody who knows how extract you from it in the most advantageous way possible.
There's an old saying that makes a lot of sense: If you realize you've dug yourself into a hole, the first thing you should do is stop digging.
UF:  And the second thing?
Cary Ichter: Call Ichter Thomas. Of course.
To contact Cary Ichter, or more information on Ichter Thomas LLC, see our Cary Ichter profile page in our Franchise Attorney Directory, visit www.IchterThomas.Com, or call 404-869-5243.

Tags: Cary Ichter, Attorney Cary Ichter, Ichter Thomas law firm, franchise attorney, franchisee attorney, Georgia franchise attorney, Georgia franchisee attorney, franchise litigation attorney, Georgia litigation attorney, Atlanta franchise attorney
The post ICHTER THOMAS: Interview with Cary Ichter, Georgia Franchisee Attorney appeared first on Unhappy Franchisee. Reposting this content without prior expressed written permission by Relentless, Inc. is strictly prohibited.