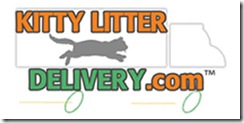 Here's a new franchise opportunity being promoted on Franchise Gator and elsewhere: KittyLitterDelivery.Com.
With a franchise fee that ranges from $2000 – $45,000 (depending on population), the Kitty Litter Delivery franchise requires an initial investment of between $7,050 – $74,425.
According to the Kitty Litter Delivery franchise marketing kit at their website, "KittyLitterDelivery.com was started by two cat owners who understand the frustrations of(a) continually handling bulky bags of cat litter and (b) having to remember to actually buy it from the store when you have depleted your household supply."
How do KLD franchise owners solve the massive kitty litter problem plaguing America?
If you guessed "by delivering it," you would be correct:
KittyLitterDelivery.com delivers the most popular brands to a customer's doorstep relieving them of the headaches associated with buying such a cumbersome product. By doing this, we'd like to think we are making people's lives easier, and more important, enabling some people (i.e. seniors, the handicapped, etc.) to continue to enjoy the company and companionship that cats can bring into their lives, companionship that can enhance one's emotional well-being."
Couldn't someone just get a van, buy kitty litter wholesale and deliver it without a franchise?
Kitty Litter Delivery answers that in their marketing Q&A:
Q) Why can't someone compete against KLD?

A) They can- but it would be very difficult. Not only do we have all the systems in place
for the marketing, distribution and logistics of cat litter…through our research, we have
figured out how to efficiently run this business…and we also have over 40 similar
domain names locked up that greatly limit any competitor's market potential.
Surely, the elderly are cruising only top domains for kitty litter delivery. But the real benefit of paying up to a $42,000 is the intensive 1.5 day franchisee training program:
Q) What kind of training will I receive?

A) Your training is complete and comprehensive. A new KittyLitterDelivery.com
franchisee receives 1 ½ days of classroom and field training* near our Headquarters in the Metro NY/ NJ region that includes lessons on product selection, storage & logistics,
customer service, and sales/ marketing. In addition to hands-on training, you will receive
What about marketing?
Q) How will I market my franchise?

A) A combination of grass-roots marketing/ networking, direct mail, on-line/ social
media, word-of-mouth, print, etc., should help to make your business successful! In the
near future, we have plans for product line expansion that will include working with you
to include offering your customers pet food and other pet supplies.
Grass roots marketing… social media… word-of-mouth… in other words, you're on your own.
What do you think?  Is KittyLitterDelivery.Com the next great franchise opportunity?  Or will it be one of the next hot topics on UnhappyFranchisee.com in a year or so?
WHAT DO YOU THINK?  SHARE A COMMENT BELOW.
LOGO:  KittyLitterDelivery.com
* emphasis ours