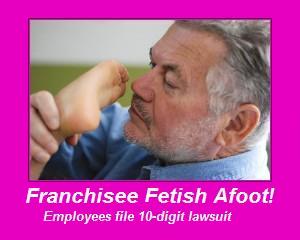 Franchisee Fetish Afoot!  Massage Envy Employees Seek 10-Digit Payday!
Something doesn't smell quite right about this story.  But be forewarned… it's NSL (Not Safe for Lunch).
If your boss offered you a new BMW and $30,000 per month to let him/her smell and fondle your feet, how would you react?
Would you:
A)  Run screaming from the room?
B)  Kick off your shoes and put those little piggies to work?
C)  Say "Make it a Porsche and I'll throw in the ankles for free"?
D)  Keep working for the boss for low wages despite his repeated attempts to sniff and rub your feet over his face, then sue when your hours are cut?
It seems that two employees of a Massage Envy franchise would rather sue than un-shoe
Here's an excerpt from the bizarre report on Courthouse News Service:
SALT LAKE CITY (CN) – Two women who worked at a Massage Envy franchise claim their boss offered them money to smell their feet. One claims that after he "forcefully grabbed" her feet and took off her shoes, he "sniffed them in a lustful manner." The other woman claims franchise owner John Johnson offered her "up to $30,000 per month" and a BMW if she would let him do it.

*  *  *  *  *

[Danielle] Wade claims that Johnson told her "that he wanted her to 'check-in' with him and that he would pay her each time. He told her that she would make up to $30,000 per month," according to the complaint.

The complaint continues: "Mr. Johnson promised Ms. Wade that he would buy her a BMW automobile if she complied with his gestures. Mr. Johnson further told Ms. Wade he would sign a document indicating he would pay her for her the services."

Wade says she refused. However, she says, Johnson then told her to "come into his office to talk with him. Once in the office, Mr. Johnson proceeded to lie down on the floor and removed Ms. Wade's boots and said he wanted to massage her feet and smell them. Ms. Wade objected and put her boots back on and left his office. Ms. Wade was in shock, and shaking as she left Mr. Johnson's office."

Co-plaintiff Odette Provost's allegations are more alarming….

"Mr. Johnson then forcefully grabbed Ms. Provost's feet and proceeded to take off Ms. Provost's shoes. Ms. Provost objected to the assault, stating that he was 'weird' and that her feet stunk.

"Mr. Johnson stated that he enjoyed when her feet stunk and that it just made him more of a slave to her. Mr. Johnson proceeded to rub Ms. Provost's feet over his face and sniffed them in a lustful manner.

"Ms. Provost was in shock and frightened during the incident and could not run away.

"Mr. Johnson told Ms. Provost 'not to say anything to anyone.' Mr. Johnson then wrote Ms. Provost a check for $100. Mr. Johnson did not state what the check was for.

"Ms. Provost felt ashamed, frightened, and humiliated."

Then, Provost claims, it happened again.

According to the complaint: "Mr. Johnson asked Ms. Provost if she was available for some training in his office.

"Once in the office, they began discussing issues related to the business. Suddenly, Mr. Johnson jumped to the floor, removed Ms. Provost's shoes, and started sniffing and rubbing her feet over his face.

"Ms. Provost was frightened and told him to stop. Mr. Johnson stopped and left the office. These incidents created a hostile work environment for Ms. Provost as she could not predict when Mr. Johnson would attack her again."

The complaint continues: "A district manager for Massage Envy Ltd., L.L.C, was informed of the incidents and stated that Mr. John Johnson was a franchisee, and corporate headquarters could not control a franchisee, and he could 'Do what he wants.'

"Defendants took no disciplinary action against John Johnson or the franchise in response to Ms. Provost's claims of sexual harassment and battery.

"Ms. Provost was retaliated against through a reduction in pay and hours. Management and certain employees then took a campaign upon themselves to force Ms. Provost to leave her job."

The women seek punitive damages for gender discrimination, negligent supervision, assault, battery, retaliation, and intentional infliction of emotional distress. They are represented by Kevin Robson with Bertch Robson of Salt Lake City.
WHAT DO YOU THINK?  SHARE A COMMENT BELOW.
Tip o' the hat to Oldsword and BlueMauMaufor spotting this story.  Photo credit:  EverJean, License:  Creative Commons