Franchise Attorney David Kaufmann of NY Law Firm Kaufmann Gildin & Robbins might not find the parodies coming out of UnhappyFranchisee.Com funny or in good taste.
But he may feel the sting… and that may be the point.
The parody cartoon below uses the time-tested technique of political cartooning to question (and mock) the rich and powerful who believe they are above being questioned and mocked… or should be.
The parody is a portrayal of a modern-day kangaroo court conducted by arbitrator Kauffman via ZOOM.
It is based on a real Final Arbitration Hearing conducted by Kaufmann despite only one of the two parties in attendance.
Kaufmann has been accused of blatant bias, favoring franchisor PIRTEK USA and being overly restrictive and punitive toward former star PIRTEK multi-unit franchisee Jim Lager.
The leaked Proposed "Arbitration Award" document drafted by PIRTEK attorney Michael Joblove of Genovese Joblove & Battista didn't alleviate the suspicion of bias.  It documents that David Kaufmann rushed through the Final Arbitration Hearing despite neither franchisee Lager nor his attorneys being in attendance.
Kaufmann allowed CEO Kim Gubera unlimited opportunity to make disparaging and unsubstantiated character attacks on Jim Lager, including that he smokes and grows marijuana and is domestically violent.
If Kaufmann grants the judgement Michael Joblove & Kim Gubera are seeking, they will close down Jim Lager's business, lay-off his 22 employees, bury him under $700,000 in debt and forbid him from being employed in his own career field!
Franchise "ArbiTraitor" David Kaufmann Kangaroo Court
Featured Characters include:
"King" David Kaufmann:  Attorney David Kaufmann earned the nickname "King David" both by his inflated ego and his intolerance of his pronouncements being questioned, even when they are clearly incorrect… and biased.  He consistently ruled in PIRTEK's favor despite their apparent breach of the settlement terms.
PIRTEK USA Chairman Glenn Duncan:  Duncan's Daddy is the founder of PIRTEK, which is headquartered in Australia.  Glenn Duncan came to America to prove himself out from under Daddy's shadow.  Shortly after taking over the successful PIRTEK USA franchise organization, Glenn made a couple of colossal blunders.  One was overbuilding an enormous new headquarters which included 20,000 square feet of office space for just 40 office employees.  Another was disparaging and ousting a popular and top-performing franchisee Jim Lager.  In 2021, PIRTEK USA settled a dispute with Lager for nearly half a million dollars and waiver of his non-compete.
Glenn Duncan is humorously depicted as calling in from a Klan Rally, a reference to the allegation that he was enraged that Lager brought his black girlfriend to an all-white PIRTEK sales conference.
PIRTEK CEO Kim Gubera:  During the hearing call, Kaufmann gave Kim Gubera unlimited opportunity to attack Jim Lager's character and personal life, and to make unsubstantiated claims that he is a marijuana user and marijuana grower.  Shown smoking a blunt in a field of weed, it must have slipped Ms. Gubera's mind that at the time she claims his life was in disarray, he maintained his position of one of the top selling franchisees out of 100.
SATAN:  Special guest appearance, as Jim Lager's seat was open.
Michael Joblove, PIRTEK attorney:  Michael Joblove of Genovese Joblove & Battista may have the most to gain from his clients' blatant violation of the settlement agreement and vendetta against their previously celebrated franchisee.  Michael Joblove seems to feed into his client's and Kauffman's desire to bully the defiant former franchisee.  And why wouldn't he?  PIRTEK USA seems to be the cash cow that just keeps on giving!
PIRTEK's Continued Misuse of Jim Lager's Name, Likeness & Success Story 2/6/22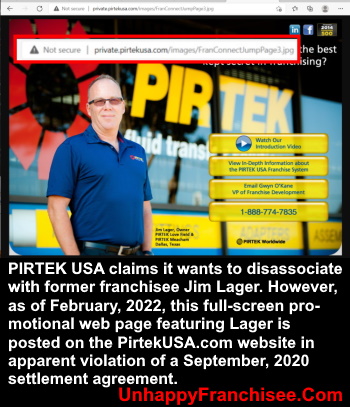 This full page image of Jim Lager promotes the PIRTEK franchise is publicly viewable and easily found in search engine results.
It is posted to Pirtek's own PIRTEKUSA.com website and web server.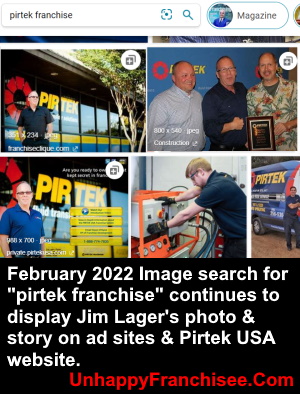 Google and Bing image searches are still populated with PIRTEK franchise promotions featuring Jim Lager. Of the three images above, one resides on  the PIRTEKUSA.com website, one in a paid ad controlled by PIRTEK and the third on an industry  site that would likely remove it upon request from  PIRTEK.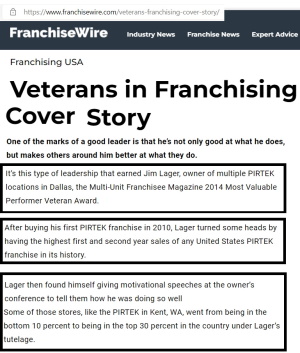 PIRTEK has failed to remove its press releases  featuring Jim Lager's success story even from Press release sites it has its own account sign-in, like Thomas.Net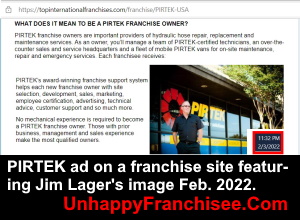 PIRTEK continues to feature Jim Lager's likeness in its paid ads on franchise portals like this one on  TopInternationalFranchises.Com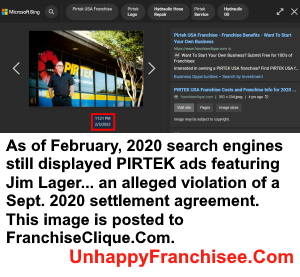 PIRTEK continues to exploit Jim Lager's likeness on other ad portals, like FranchiseClique.com, which also appear in image search engines.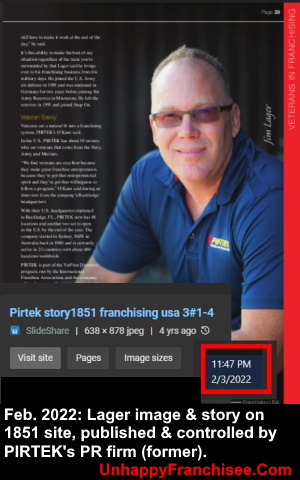 Jim Lager's success, mentorship of other franchisees & military service still appears on the fake news website 1851 Magazine, published and controlled by PIRTEK's former PR agency.
Its publisher Nick Powills has said he'd remove content if PIRTEK requested it.  They obviously  haven't.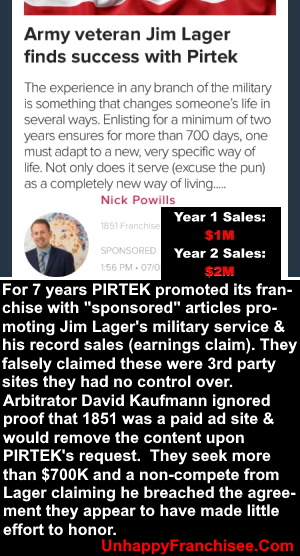 Jim Lager's own comments on LinkedIn prompted removal with the embedded illegal earnings claim planted and maintained by PIRTEK for 7 years. PIRTEK USA used this fake news article to  communicate Jim Lager's record 1st & 2nd year sales despite claiming, in official documents, that they do not disclose past or projected earnings information.
Also read:
PIRTEK CEO Kim Gubera is Brand's "Chief Disparager" [FranBest.com]
Franchise Arbitrator David Kaufmann's Credibility on Trial After Kangaroo Court Hearing
David Kaufmann Arbitration Leaks Appear to Expose Blatant Franchisor Bias
King David Kaufmann Franchise Arbitration Call Leaked! (Parody)
Franchise Discussion, Documents,
Links: NASAA Proposed S.O.P.
Mediator David Kaufmann Ethics Accusations
Does U.S. Army Veteran Jim Lager Recommend the PIRTEK Franchise?
Is PIRTEK USA Racist? Or Just Really, Really White?
WHAT DO YOU THINK?  ARE YOU FAMILIAR WITH THE ARBITRATION PROCESS?   WHAT WAS YOUR EXPERIENCE? PLEASE SHARE YOUR OPINION BELOW OR EMAIL US AT UNHAPPYFRANCHISEE [at] GMAIL [dot] COM
We welcome comments and clarification from David Kaufmann, Michael Joblove, PIRTEK USA as well as the franchise regulators of NASAA.
NOTE:  FranchisePublicity.Com provides an open invitation to all individuals and companies discussed, mentioned or involved with our posts.  We invite you to provide corrections, clarifications, rebuttals or alternative points-of-view in the comments and/or by emailing us at UnhappyFranchisee [at] Gmail [dot] Com.  We welcome all respectful opinions and value open, productive discussion.  We also respect the protected right of anonymous speech and assure the confidentiality of our sources and those who wish to contribute anonymously.  Threats and bullying will not be tolerated (especially when directed at us).
Tags:  PIRTEK CEO Kim Gubera, Kim Gubera, PIRTEK USA, Michael Joblove, Genovese Joblove & Battista, David Kaufmann, Kaufmann Gildin & Robbins, franchise lawyers, franchise law, franchise arbitration, franchise mediation